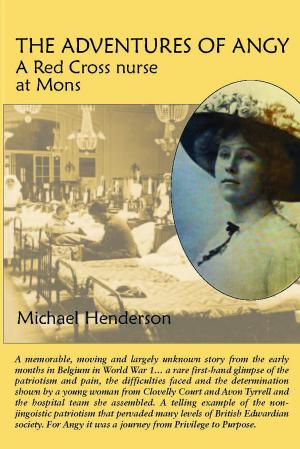 CreateSpace Independent Publishing Platform
ISBN: 978-1507576007
This is a book about someone I worked with 60 years ago. I had little idea then of her daring activities during World War I. She is Angy Hore-Ruthven, formerly Manners, wife of Col Malise Hore-Ruthven and mother of Nancy, Sally and James. This 25-year-old society lady raised a 'hospital' - matron, surgeon and nurses and equipment - and took it to Belgium. With the focus on World War I, I offered to help Sally get her mother's story reported. We soon realized that it couldn't be easily captured in a magazine or newspaper article. Discovering that Amazon's Create Space published short books, I decided to write one.
The 'Manners Hospital', as it was called, was joined by Winston Churchill's sister-in-law, Nellie Hozier, who was Angy's best friend. The book includes photographs of Angie and Nellie and their team in Mons provided by the Mons Memorial Museum. For her work Angy was awarded the rare Royal Red Cross by King George V and Belgium's Queen Elisabeth medal as well as being entitled to wear the Mons Star. She was also thrown in prison by the Germans.
Sally tells in a postscript about some 40 family members taking part in a 2014 centenary visit to the battlefields of Northern France. She also writes of the way she and her parents, sister Nancy, brother James and wife Dron, and husband Jim, worked with Initiatives of Change: 'The vision of a different kind of world from that in which we grew up has been the driving force of our lives.'
'The Adventures of Angy: A Red Cross nurse at Mons' is now on sale on Amazon and on Kindle.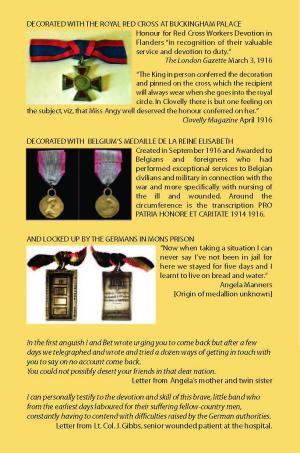 Read review in Union Jack
'A fascinating story of Angela Manners, a young woman from Clovelly Court, Avon Tyrrell, and her best friend Nellie Hozier... This is a short little book jam packed with facts and tidbits and a really interesting insight into what life was like for these ladies in, what was surely, an incredibly rough time.'
'Inspiring story by a fascinating writer about an incredible woman in challenging times. Well written review as well. This book is a quick read yet it leaves the reader with awe of a mighty spirit of compassion, strength and perserverance with lots of resilience which are key essentials for all of us to truly survive and thrive. This book should be required reading by all school students' - Lorraine Chambers, having read the review in Union Jack