Hope after despair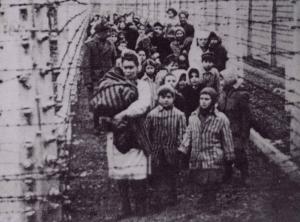 A lasting image from World War II is Auschwitz twins, who had been experimented on by Dr Joseph Mengele, moving out of the death camp. Eva Kor's willingness to forgive after such suffering has been an inspiration to millions. The New York Times has written, 'Whether you agree or not with her decision to forgive her torturers, it's impossible not to be moved by her fierce capacity for life.'
More
---
Meeting the monsters of my dreams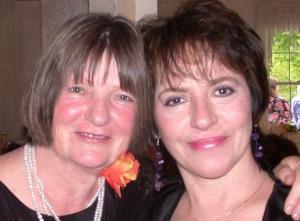 Helga (on the left) and Zella
The following story from chapter 2 of No Enemy To Conquer appeared in 'Children in War – the International Journal of Evacuee and War Child Studies' Vol 1, no 6 February 2009
Zella and Helga are best friends. Two middle-aged women, traveling together, talking about their children and grandchildren, and the pills they each take for migraines; all very normal. But should they be doing this? Some have difficulty accepting their friendship.
They are co-founders of an organization called One By One, Inc that takes its name from a book about the Holocaust by Judith Miller. Miller wrote, "We must remind ourselves that the Holocaust was not six million. It was one, plus one, plus one…Only in understanding that civilized people must defend the one, by one, by one…can the Holocaust, the incomprehensible, be given meaning."
Members of One By One are children of victims of Nazi atrocities who grew up in the shadow of their parents suffering and trauma, and descendants of the Nazi era whose parents or grandparents were perpetrators or bystanders in one of the most evil chapters of human history. They seek out the humanity in each other as they listen with compassion to one another's stories of pain, guilt, anguish, loss and fear. As the stories resound within them, the women say, the burdens are lightened and the the impact of their legacies is transformed, offering hope to future generations.
The path of transformation is never easy, and the stories of Zella and Helga are testimony to that.