Welcome to our family page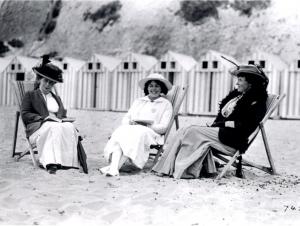 The photo above is of my grandmother, my great aunt and my aunt at the beach probably on the south coast of England about a hundred years ago. I don't know where. When I was young I wasn't very interested in family history. By the time I got intrigued, or had the time for it, my mother and father had died. So I am left with a wealth of portraits with no identification marks on them, and masses of unanswered and probably unanswerable questions. They range from why do we have the key to Dean Swift's watch to why was my grandfather threatened with death if he didn't leave Ireland in 1922, from what were my father's experiences in the trenches in France in World War 1 to what did my mother feel about our five years separation in World War 11 or why do we have a page from the logbook of a slave plantation in Jamaica? Family history is in fashion so I hope that nowadays fewer younger people will fail to take advantage of the presence of older relatives in their midst. I encourage everyone to record their family history.
You may not want to know about my family but I have found a few whose stories are worth making available outside the family and I have begun to write some of them up. My family is not untypical of many in Britain. My English father and my Irish grandfather both fought in France in World War I and my father joined up again in September 1939 and was in the War Office the whole war and my mother was in the Censorship. Many family members also participated in military campaigns in the nineteenth century. One of them you will discover, if you care to read further under HISTORY, is held by some historians to be responsible for the British burning of The White House in the War of 1812!
Request permission for the use of photographs.