Nigeria: the story of the Imam and Pastor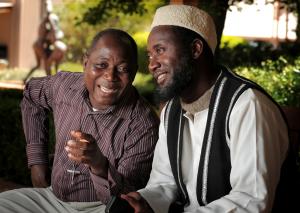 The following story is from chapter one of No Enemy to Conquer
Muhammad Nurayn Ashafa, a Muslim imam, was once committed to the total Islamization of Nigeria. James Movel Wuye, a Christian pastor, was just as committed to its evangelization. They were bitter enemies, determined to kill each other. Today they are friends and joint directors of an NGO, the Interfaith Mediation Centre in Kaduna, one of the most important cities in northern Nigeria. The archbishop of Canterbury, Dr. Rowan Williams, has called their story "a model for Christian Muslim relations".
In a world that debates whether the future is a clash or an alliance of civilizations, their remarkable journey is a beacon of hope – and not just for Nigeria. I learned from them what had "transformed vengeance into reconciliation".
Between September 2001 and May 2004, nearly fifty-four thousand men and women were killed in three years of ethnic conflict in Nigeria's central plateau. This led in May 2004 to then-President Olusegun Obasanjo declaring a six-month state of emergency for Plateau state, replacing the elected civilian governor with a military administrator. With the largest population in Africa (140 million: half Muslim, half Christian or local African religions) and being the seventh largest oil producer, Nigeria is, according to George Paden, professor of international studies at George Mason University, a key fault line in one of the most strategically important countries in the world, central to global stability.
Dozens of mosques and churches were destroyed in the country's interreligious strife. The reasons for the plateau killings were not just Christian-Muslim conflicts, but also clashes between farmers and local authorities and other issues such relocation of markets, disputes over access to government posts, "indigene versus settlers syndrome", and the political manipulation of symbols. But as Paden maintains, "Very few religiously mixed communities can afford to ignore the issue of interfaith dialogue and the need for regular mechanics of conflict mediation."
In the book Muslim Civic Culture and Conflict Resolution, Paden, who served as an international monitor in the Nigerian presidential elections of 1999 and2003, draws attention to the example of the Interfaith Mediation Centre in its work to build capacities in conflict prevention and mediation: "The efforts of an evangelical pastor and Muslim imam are a prototype for many of the secondary school and university 'peace committees' already having an impact on conflict resolution efforts in Nigeria." He believes that the cultural capacities of Nigerians – Christian, Muslim and traditional – to set an example in conflict resolution "will have enormous implications for global society in the years to come."
The work of "the Imam and the Pastor", as Ashafa and Wuye are widely known, is having ramifications way beyond Nigeria, not least because, for a time, they were at the heart of the problem. The men address a key issue facing people of faith today: how the Christian and Muslim worlds can live and work together without compromising their fundamental religious principles.
I first met the two men at an international conference in 2004. Their witness, standing together, was powerful: two militant religious extremists, now working, as they put it, "for the transformation of society".
They both come out of the heart of the religious teaching of their communities. As a rebellious young man, James Wuye was challenged by a Christian minister. "When he started preaching, it was like somebody told him about me. Pointing his hand at the congregation, it was like he was pointing his hand at me. I kept ducking under the pew to avoid him. I had a conviction in my heart that God was speaking to me and that I needed to change." He became a Pentecostal minister, a passionate evangelist, and vice president of the Christian Youth Association of Nigeria. With community relations strained to a breaking point, he decided to join a Christian militia group. "People were laughing us to scorn, pastors were being killed. My hate for Muslims had no limits."
Imam Muhammad Nurayn Ashafa comes from a strong religious family, a long line of imams. His father was a spiritual leader, and the family felt they were custodians of Islamic heritage. Because of his family's struggle with Western colonial authority, he was not able to get a Western education. "Most of us had nothing to do with the West. We have a zeal of protecting, reviving the reforming spirit, and bringing back to Islam the glory of Islam."
As religious conflict intensified, both young men joined in the struggle, participating on their respective sides. In the early 1990s, the two men had wished to kill each other, during communal riots. Muslim extremists cut off Pastor Wuye's hand when he was defending his church, and Christian extremists killed Ashafa's spiritual teacher, seventy-year-old Ahmad Tijjani, and two of hi brothers. "For forty-eight hours, " says Ashafa, "we were killing and maiming each other. I was fighting believing I had to defend my faith community." In May 1995 the two men met for the first time at an event convened by the wife of the military administrator of Kaduna state, under the auspices of the State Women's Commission. James went expecting that Ashafa's men were planning to identify him as a target for possible attack. "By his dress, Ashafa was the embodiment of an Islamic fundamentalist. We saw them as fanatics." They were to write later: "We were both startled by some discoveries. Hidden behind the turbaned imam was a gentle man, not the violent man the pastor had assumed he was; the suited pastor was a bird of the same feather as the imam. We found we had a lot in common."
It was suggested that the men might have a part in bringing healing. They were encouraged to talk, and each began to question the cost of the violence, finding passages in the Bible and the Quran that showed common approaches. The imam says that as they focused on what they could take on together, rather than looking at their differences, there was a hope for "a united front against evil". They saw their survival as a sign from God and set up an organization to encourage dialogue. Despite, as they put it, strong tongue-lashing from their respective organizations, they decided to meet together with their executives, not as a church or a mosque but on neutral ground. Out of this encounter came the Muslim Christian Youth Dialogue Forum. The imam was met with disdain when he first came in full regalia to the Christian group, and the pastor was met with suspicion when he first visited the mosque. "I wasn't sure I would come out of the place alive," remembers the pastor. They were labelled as "betrayers" by some of their own people and even accused of being funded, separately by the Vatican and Israel. In 1999 the two published a book about their discoveries The Pastor and the Imam: Responding to Conflict. They detailed theological places of agreement in their respective faiths and also points of difference. In it they pay tribute to Nigerian leaders over the years who worked for religious understanding and write, "If we do not wish our beloved nation to end up like Somalia, Burundi, Liberia, and Rwanda where ethnic-religious conflicts have threatened their very existence, we must collaborate and work together as a team to check these bad elements that use religion, especially Islam and Christianity, to cause discord within humanity."
They quoted then–Archbishop of Canterbury George Carey: "In most, if not all our traditions, there are things of which we should rightly be ashamed. But there are also things in which we can rejoice. Part of our task is to help people focus on the latter in the faith of others and to speak of those faiths with the respect they deserve." And they quoted Kano Governor Ibrahim Shekarau: "Every good Muslim would like to deal with a good Christian; likewise every good Christian would like to deal with a good Muslim. I did not choose to come from a Muslim family nor do you choose to come from a Christian family; these were accidents of birth. But God chose to create us that way so that we may know each other and live with one another in peace. Who am I to challenge God's wisdom in this respect?"
It was one thing for the two religious figures to talk intellectually. Real friendship, however, was slower to come. "We were programmed to hate one another, to evangelize or Islamize at all costs," says the pastor. "I used to want to have nothing to do with Muslims until I met Ashafa."
A turning point for Imam Ashafa came when he heard another imam preach in the mosque about forgiveness and the example of the Prophet. "At that point. the concepts of forgiveness and mercy were far away from my conviction," he says. You have a right to redress, this imam told them, but the Quran teaches further that it is better to turn evil into something that is good. So therefore, if Muslims refuse to forgive those who persecute them, then they are not the true embodiment of Muhammad (PBUM) who in Mecca forgave the people who tried to destroy him. "As the imam spoke, I felt he was looking right at me." Tears flowed down Ashafa's cheeks as he wondered whether he could forgive his enemy. "Muhammad has forgiven, you have to forgive," the preacher said, "and he was looking in my direction. He talked as if he knew what I was thinking in my heart. I was in an ocean of confusion, between my conscience and my desire for revenge. Suddenly he finished his sermon and said, 'Let's pray.' We prayed and after that I started thinking I can really forgive James."
The relationship began to grow. But it took Pastor Wuye three years to overcome his hatred. When they began travelling together, even sharing a room, he was sometimes tempted to carry a pillow to suffocate Ashafa when sleeping. "Each time I wanted to retaliate."
Seeds of reconciliation were sown when the imam and other community leaders visited the pastor's sick mother in a hospital. "Ashafa was radiating love, but I'd been blinded by hate and pain," he says. A turning point for him was the word of an evangelist: "You cannot preach to someone you hate. If you will truly do this work, you must begin to forgive them for every hurt against you or against anyone you have loved or you love dearly." As their work expanded, teams of pastors and imams travelled to trouble spots. These teams had much to learn about each other's faith. Christians had to learn to be patient when Muslims went for prayers and likewise Muslims on Sundays when Christians went for theirs. One emphasis of their Interfaith Mediation Centre was on bringing young Christians and Muslims together for conferences and work shops. Where violence had broken out in Northern Nigeria, they have gone together to the streets to calm tempers and find solutions. At one point, Imam Ashafa protected Christian women and children in his home and was threatened with death by militant Muslims, and Pastor Wuye saved a Muslim woman during one particularly violent episode.
At the invitation of the state governor, the International Centre for Reconciliation at Coventry Cathedral was invited to help end the violence in Northern Nigeria. When the Centre's director, Canon Andrew White, came to Nigeria to see how their centre could help bring the different faiths together, the Anglican bishop recommended he meet Imam Ashafa and Pastor Wuye. For five months, they worked with the Centre and with other religious leaders brought together by the imam and pastor to produce a document known as the Kaduna Peace Declaration, which in 2002 was signed, in the presence of some twenty thousand religious leaders and other top dignitaries, by eleven Muslims and eleven Christians, all influential in the community. The document, based on the Alexandra Declaration of Religious Leaders for Peace in the Holy Land, starts this way:
In the name of God, who is Almighty, Merciful, and Compassionate, we who have gathered as Muslim and Christian religious leaders from Kaduna State pray for peace in our state and declare our commitment to ending the violence and bloodshed, which has marred our recent history. According to our faiths, killing innocent lives in the name of God is a desecration of His Holy Name and defames religions in the world. The violence that has occurred in Kaduna State is an evil that must be opposed by all people of good faith. We seek to live together as neighbours, respecting the integrity of each other's historical and religious heritage. We call upon all to oppose incitement, hatred, and the misrepresentation of one another.
Despite such promising initiatives, Nigeria saw renewed violence in 2002 and twenty-five thousand troops had to be deployed to subdue the unrest. Consequently, what was called the Yelwan Shendam intervention came at the invitation of the Plateau State administrator; the pastor and the imam gathered key leaders for five days of sharing and negotiation. Working through all the issues, they finally made a joint peace affirmation. On 19 February, 2005, thousands celebrated the peace agreement, including many who had fled their homes and now felt safe enough to return.
Their story, as David Smock, of the US Institute of Peace says, is "a narrative of religious peacemaking". Progress would not have been achieved if the pastor and the imam had not combined both religious exhortations with well-tested conflict-resolution techniques, demonstrating "that even the bloodiest religious conflicts in Nigeria can be addressed creatively." They then turned their attention to comparable religious violence in the Plateau state capital, Jos, and again a peace accord was signed.
Both Pastor Wuye and Imam Ashafa stay faithful to their religion. "I always say I will die as a Christian," says Pastor Wuye, "and I am not compromising one inch on my principles. But we are creating space for one another." Embracing him, the imam said, "He is no more an enemy but a friend." They regard themselves as victims of the situation they had a part in creating. Indeed, the very fact that they were both at the heart of the previous interreligious violence "gives us credibility," says Wuye. They are able to show themselves as examples because they used to be part of the militias: "We tell them we lost our loved one, I lost my hand. When you have dialogue, you have peace. We feel in forgiveness there is strength. You are stronger when you forgive someone."
Wuye says, "Presenting Christ does not really mean verbalizing it; you can live it. By living a Christian life, I can influence people positively without saying it out (loud). I practice my faith vehemently, and he does too, and we are still coexisting and living together." Ashafa adds, "I want Muslims to provide a safe haven for people and the world who are from other faiths and traditions as demonstrated by Prophet Muhammad (PBUH)." "Christians and Muslims can coexist side by side and still go to the heaven we dream of, that is true," concluded Wuye. In December 2006 a documentary film about their work premiered at the United Nations in New York. Reviewer Bunmi Akpata-Ohohe described it in Africa Today as "a harrowing and inspiring story of gratuitous violence but also forgiveness and friendship." She wrote, "It brings a message of hope for the world on the volatile issue of Christian-Muslim relationships. Who say that good things don't come out of the most populous black country in the world – Nigeria? Such people should think again!"
The film begins with two men praying in Arabic and English at mass graves of people killed in clashes between Christians and Muslims and thanking God for having created a "safe space to dialogue." It ends with the two of them offering a simple statement of belief and their commitment to the idea that though they may differ on some theological issues, they are committed to making the world a safer place. Ashafa says, "I never compromise the principles of Islam. But Islam says, 'Create space for others'." Of Wuye, he says, "Even tough he is not a Muslim, I like him. I can give my life to protect his honour and dignity – that is what Islam taught me to do. I live for it and I will die for it." Wuye says of Ashafa: "I love him because I am told to love my neighbour as myself. I live by that principle."
The DVD of 'The Imam and the Pastor' and a DVD about the outreach of their work in Kenya 'An African Answer' are available from FLTfilms.