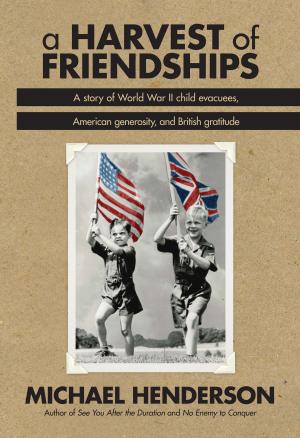 Hardcover ISBN 978-0-9838168-6-7 Retail price: $29.95
Available online from the American publisher, Ross Hawkins, at Ross@IdeasByACS.com or from Michael Henderson (Email here) for £25 including postage and packing
A Harvest of Friendships is the remarkable story of the deep and lasting friendships that were born out of an extraordinary situation in an era unlike any other. During WWII, thousands of British parents evacuated their children to the United States in order to keep them safe. How did these British children cope with years of separation from their families? How did American host families manage? These children experienced an untold variety of family situations and were given an insider's glimpse into wartime American home life and attitudes. The author has corresponded with or met hundreds of evacuees and many have shared with him their experiences and their precious photographs for the fi rst time. A Harvest of Friendships provides a compelling picture of a little-known side of World War II.
Endorsements
'Michael Henderson has a strong personal feeling for the friendships he describes, and a clear awareness of their importance to all that is special in the relationship between the United Kingdom and the United States. A Harvest of Friendships shines a warm light on a fascinating and not widely enough known chapter of history.'
— Sir Brian Fall, former Minister at the British Embassy in Washington, and High Commissioner to Canada
'Michael Henderson focuses on an important piece of modern history that many readers will have had very little, if any, knowledge or understanding about. The power of this World War II evacuation is historically unequaled. Michael's writing perfectly illustrates the power of cooperation between nations and the skill and determination of the naval services in executing this very special mission. Of course the real heroes of this story are the children and how they adapted to being cast off into a great unknown.'
— Ambassador Charles J Swindells
'Thank you, Michael Henderson, for reminding us of this little-known footnote to the war, which underscores our unique alliance with Britain. It's the kind of story that makes me proud to be an American.'
— Philip Yancey, author, 'What's So Amazing About Grace and Prayer: Does It Make Any Difference?'
'When a wonderful story-teller uses his sharp memory to recover an old drama that contained historic and heart-stirring ingredients, what you get is this extraordinary book. Henderson's account of how blows on children from Hitler's war were softened by blessings received in America, and separation by the embrace of a kindly love, will hearten the uprooted of today, while reminding others of the foundations of true pride.'
 — Rajmohan Gandhi, historian, grandson of Mahatma Gandhi, and former professor, University of Illinois at Urbana-Champaign.
'Michael Henderson's latest book reminds us of the Americans who opened their homes to the children of Britain in need in 1940. These wartime refugees became ambassadors for America and their contribution to our society has been immeasurable. Henderson's exchanges with hundreds of other evacuees have uncovered a wealth of revealing stories from the American Home front in World War II.  May we use Michael's stories as a reminder that we again must open our hearts to war refugees in need.'
— Donna Zajonc, former Oregon State Legislator, author, Politics of Hope

'As an evacuee to North America I am fascinated by the variety of experiences of other evacuees Michael Henderson has uncovered and the generosity of American families that is revealed.
—Jessica Mann, crime novelist and author of 'Out of Harm's Way'
'Michael Henderson has written a poignant and eloquent thank-you letter to the families who welcomed thousands of young British evacuees during the early stages of World War II.  'A Harvest of Friendships' shines a warm light on a fascinating and little-known wartime drama. It's a terrific story, well-told, and it's also a profoundly relevant one, given today's great migration of refugees from war.'
 — Tom Nagorski, author of 'Miracles On The Water: The Heroic Survivors of a World War II U-Boat Attack'
'For those of us lucky enough to be born in peacetime, it's hard to imagine, let alone believe possible, the extraordinary events that overtook everyone during the Second World War, on both sides of the Atlantic. Michael Henderson has woven together a vivid patchwork of stories, hitherto untold, of unsung heroes and heroines, whose great sufferings met even greater kindnesses. This is a valuable, thoughtful and very moving book, and I caught my breath many times as I read it.'
 — Lady Emma Barnard, Patron, British Evacuees Association, whose family home, Parham House, hosted 30 wartime evacuees from Southeast London

'It takes a good storyteller—like Michael Henderson—to capture the spirit that informed the trans-Atlantic floating nurseries in which thousands of British children escaped the fear of a possible German invasion in 1940. During my years as reporter in several countries—including the United States and South Africa—I came across many of those refugees. Without exception, I found them modest, uncomplaining, and courageous. Michael himself has proved to be a shining example. His new book leaps the years and has assumed special relevance with the plight of political refugees now back in the news. Michael is a persuasive and persistent reporter who thinks on his feet. Thank goodness he pursued those now adult, eternally grateful refugees whose experiences he wasn't able to fit into his first account.'
—Kim Shippey, international journalist and editor in radio and television with the BBC in London and The Christian Science Monitor in Boston.
'The book arrived yesterday, and of course I immediately read Chapter 10. I am touched by the warmth and humanity in the descriptive nature of the "Barlow Team". You absolutely caught the incredible lucky experience from which we benefited. Both Sheila and I are extremely pleased by your treatment of our story. I know Brian and Sue would have shared our thoughts. Originally, I bought three copies, however, will now purchase several more to share with children and grandchildren as part of their heritage. I shall now read the remaining chapters with keen interest. Thank you for writing A Harvest of Friendships.'
— Malcolm Barlow, evacuee
'The timing of A Harvest of Friendships couldn't be better. There are those in politics at the moment who would like to destroy any notion of friendship as you and I understand it – leaders who are exploiting animosities for their own gain. Forgiveness and Friendship are the two supporting pillars for building bridges of Hope.'
— Warren Harbeck (Canada)
'I have just received your book, and what a delightful surprise! For me the title, A Harvest of Friendships, not only relates to a period in our history, but it also reinforces the long-established special relationship that exists between our two countries, unlike any other. Regardless of changes of government and attitudes, our bonds are so well grounded that it is certain to endure. How timely to have this historical and moving account of the tragic upheaval that affected us all, in this case, the displaced young of Britain, and the American response to those in need.'
— Richard Gookin (Virginia)
'Congrats on your latest book, Michael. Truly a timely bridgebuilding effort at this specially sensitive moment for Anglo-American relations at the top levels! May it bring a rich harvest of trust and heartpower at every level.'
— Jim and Sally Baynard-Smith (England)