American family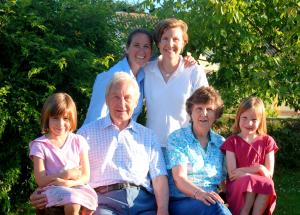 Juliet's Story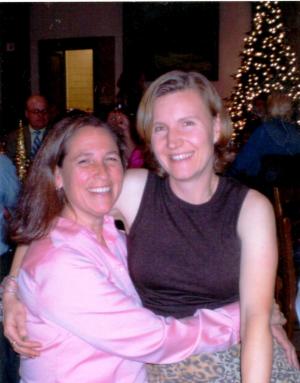 In March 2102 our daughter and three other faculty members at the Hotchkiss School in Connecticut were invited to share their stories in the school chapel.
This was Juliet's:
Good morning. My name is Juliet Henderson – I teach Spanish, coach basketball and tennis and live with my wife and our daughters in VS. I am here today with my friends and colleagues because we represent the 10% of your faculty who don't identify as "straight" or heterosexual.  While we think that this Chapel talk will be valuable for all of you to hear, we are here specifically to talk to the 10% of you who are not straight. We are going to tell you a little bit about ourselves.
I remember distinctly having a conversation with some friends at the lunch table at school when I was 16. We were talking about our future husbands. I was quite certain that at 26 I would marry a man – specifically a tennis pro, and live in the Bahamas. Fast forward a few decades, and here I am in Connecticut with a wife. Sometimes things don't turn out how you imagine they will.
I had no idea that I was gay when I was your age. I honestly thought that I hadn't met the right boy yet. In my generation there were very few people who were out. There was no one like Ellen DeGeneres or Neil Patrick Harris and no tv shows like Glee or Modern Family. My high school had no out gay kids, and any teacher that might have been gay was deep in the closet. Because there were no "celebrity" gay role models for the youth of my generation, and because I was fairly innocent, the idea that I might be gay never crossed my mind until I was 17.  At 17 I took a gap year and lived in Spain. To make a very long story very short, I met a Spanish girl who confided to me that she was gay. We fell in love, and were together for four years. This was the beginning of my journey out of the closet. To say that it was easy would be trivializing the process. It was challenging, but I was lucky; I had lots of friends who supported me. I know it was hard for my parents to find out that their only child was gay – it went against everything that, in those times, they stood for. But they proved that their love for me was greater than anything else and today we are closer than ever.
I went into teaching for many different reasons. I love Spanish and literature and linguistics and, most importantly, I really like you all – you are smart and funny, you have interesting perspectives and fascinating stories. Perhaps you have heard of the term "gaydar." Gaydar is when one gay person recognizes another without needing to talk about it. When you are gay you recognize something familiar in another gay person, however understated it may be.   
At my previous school I met a little girl named Julia who was in the 4th grade. She was the spunkiest, funniest little girl I had ever met. My gaydar went off immediately. When she was in 9th grade, I was her Spanish teacher. She breathed life into her class. She drove me nuts because she was always off topic, but everyone loved her because she was just so funny. I left that school to come to Hotchkiss and she grew up to go to college. We kept in loose touch. I continued to wonder if she was gay because something about her told me she was. Last year, on January 18, I found out that she had taken her own life in her dorm room. I found out that she was indeed questioning her sexual identity. Just to be clear, she was not bullied for not being straight and she had friends who she was able to be open and honest with. She was an actor, a singer and a friend to everyone who was lucky enough to cross her path - but not being straight can add to the usual pressures and stress of life.
Until January 18th of last year I was hubristically under the false impression that my mere presence would make everything OK for all the gay kids who came into contact with me. Her death absolutely shattered me. Although rationally I knew that this was not true, I felt like I had failed her. I realized that I needed to do more than just be a presence. Julia is the major reason why I am up here today to talk to you. You are not alone, you are noticed, you are appreciated and you are loved. You are more than just your sexual identity. Like her, you are academics and athletes, musicians and actors, entertainers, artists, and friends. You are vibrant.
We all have something in common with you and we are all here for you to talk to if you ever need an adult who has a shared experience with you.
If there is anything we can do at anytime to make your journey easier, please never hesitate to ask. Each one of us up here has something in common with you. I want to say to those who came out before me, I give you my profound thanks for making my journey easier. To those who came out with me: keep fighting. To those who came out after me: know that you are the future, and that you are awesome. Finally, to those who have yet to come out: your voice is needed, and you can do it – you are stronger than you think!