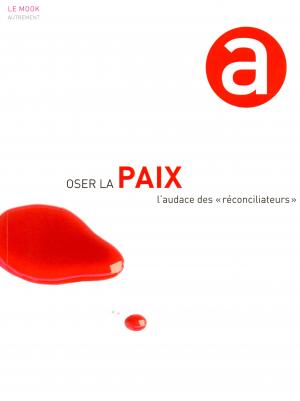 On the tenth anniversary of the 9/11 terrorists attacks the the French publisher, Editions Autrement in Paris, brought out a 128-page book with the title of 'Dare for peace - the audacity of the reconcilers'. It gives examples of people working to heal history and memories around the world. It begins with a section containing interviews with Mohamed Sahnoun, the Algerian founder-president of the Caux Forum for Human Security, and Cornelio Sommaruga, the Swiss former head of the International Committee of the Red Cross, at Caux. The editors are French journalists Richard Werly, Francois d'Alancon and Anne Dhoquois.
The following text is the introduction to the publication, in English, by Michael Henderson.
Fifty outstanding thinkers were asked last year to contribute their top ideas of the 21st century to TPM, an international publication that aims to present philosophy in an accessible and entertaining format. Alexander McCall Smith, who before becoming an international best-selling author was professor of medical law at the University of Edinburgh, put forward the idea of forgiveness. He is best known in the French-speaking world for having created the fictional first lady detective in Botswana, Mma Precious Ramotswe, heroine of a series which numbers eleven volumes.
Forgiveness is of course not a new concept. But what is comparatively new, McCall Smith pointed out, is the social function of apology and forgiveness, encouraged by the work of the Truth and Reconciliation Commission in South Africa and the subsequent attention paid to public apology by various governments around the world. This was particularly important in a culture that, in the name of accountability, encouraged us to blame and denounce others: 'When the popular press howls for blood, who is there to suggest that those who have done wrong should in due course be forgiven?' he asked.
As we mark ten years since the horror of 9/11 and the continuing violence particularly in the Middle East this might seem a surprising suggestion. But it is true that we have seen in the last few years a readiness in nations to face up to the past with deeply felt apologies, for example, by the government of Australia for its treatment of Aborigines and the government of Britain for the killing of unarmed protestors in Northern Ireland on so-called Bloody Sunday.
I am not a philosopher. I do not come to this subject through academic study. But for more than fifty years I have been associated with men and women all over the world who have been working for reconciliation on the basis that you start with putting things right in your own life and facing up to what is wrong in your own country rather than pointing the finger of blame at others. And I have had the good fortune to be able to tell stories where such approaches have contributed to peace and built trust within divided communities.
That is why I welcome this initiative of a 'Mook'1 focussing in this issue on 'les réconciliateurs'. The world is at a crucial moment. Time itself will not always remove the desire for revenge. One only has to see the continuing legacy of the Crusades or of the Opium Wars or the transatlantic slave trade. But sometimes there comes a window of opportunity, with new scholarship, the passing of a generation, even an anniversary, that enables all sides to take a fresh look at an issue. This can be made more difficult as the internet instantly discloses any evil from past or present but the same internet also gives the opportunity to universalize the desire for freedom within nations and enliven a conscience to help.
In his contribution McCall Smith wrote that society cannot be cluttered with old resentments ; at some point we had to draw the line and forgive and that Northern Ireland provided an example of that. He wrote, 'If the two previously warring communities do not forgive each other, then they will be locked in a never-ending blood feud but if they realize it this becomes an important part of the peace process in that part of Ireland.'
I have a British and an Irish passport and Protestant ancestors who played a part in suppressing Irish aspirations. My family lived for hundreds of years in Ireland. But in 1922 at the time of Irish independence my grandfather was told to leave Dublin by the end of the week or be shot. In 1947 as a family we attended an international conference addressed by a Catholic Senator, Eleanor Butler. Everything in my mother rebelled at 'a woman who talked about unity but chucked me out of my country'. She went to the Senator and apologized for the indifference with which she had treated Catholics. They became friends. When the Senator returned to Ireland she apologized to her political opponents and later became one of the founders of the Glencree Reconciliation Centre while my mother and our family became engaged in peacebuilding and reaching out to 'the other'.
Mari Fitzduff, former Chief Executive of the Northern Ireland Community Relations Council, points out that the need to have a conversation with 'the other' is paramount in a world which is increasingly one and where all wars are global and connected: 'Forty percent of NewYorkers are foreign born, and in the attack on the Twin Towers people from 80 nationalities lost their lives: all our countries are struggling with problems of ethnicity, different cultures and languages. We must learn to respect and validate diversity.' She says that we like our enemies and our beliefs to be simple and there is a tendency to fundamentalism in all of us. For a time her feminism had convinced her that the true enemy was the male half of humanity. Others similarly might blame America or Britain or capitalism. Weapons and aggression rarely changed the perspectives of our enemies.
I rejoice that Northern Ireland is coming out of years of bloodshed and conflict and that our Queen has just been welcomed in Ireland, the first British monarch to visit the Republic in a hundred years. During a visit that symbolized the successful culmination of the peace process in which the people of North and South and the governments of Britain and Ireland shared, she laid a wreath and bowed her head at the Garden of Remembrance which honours Irish men who died fighting for independence against the crown. The Times wrote that the Queen 'came as close as anyone dared hope to apologizing for Britain's actions in Ireland'. She expressed regret for what had happened in the past and extended her sympathy to all who had suffered. 'With the benefit of hindsight,' she said, 'we can all see things which we might wish have been done differently or not done at all.'
The Queen also referred to personal suffering. This was interpreted by some as a reference to the murder in 1997 of Lord Mountbatten, Prince Philip's uncle. Their son, Prince Charles, has said in reference ot his great-uncle's death that it gradually dawned on him that thoughts of vengeance and hatred would merely prolong the terrible law of cause and effect and continue an unbroken cycle of violence. 'An eye for eye', he said, quoting Mahatma Gandhi, 'and soon the whole world will be blind.'
Not everyone can be a Nelson Mandela or a Daniel Barenboïm, an Archbishop Tutu or an Aung San Suu Kyi but all of us can take steps that advance our society. I salute the passion of the publishers to create a world platform where we can observe and learn from different approaches and study results of reconcilers, often little known in France and abroad. As journalists, we naturally speak of and report on conflict, but often overlook the work of those who are building trust across divides, educating, creating economic opportunity, giving voice to acts of reconciliation. This Mook will be a valuable resource and an encouragement for many. As the President of Ireland, Mary McAleese, said welcoming the Queen, 'While we cannot change the past, we have chosen to change the future.'
1. Used in France as a cross between a book and a magazine