Canadian political inspiration
The Willcocks side of my family, from Chapelizod, though distant, is the most interesting to me because at times it intersects with national events in both Ireland and Canada. It is also the best documented, both in papers we have in our possession and in numerous books and archives. My grandmother was a Willcocks.
Take my cousin William Willcocks, uncle of Joseph mentioned above, who was a merchant in Cork and emigrated to Canada in 1794. In 1792 he had visited the province briefly and then hurried back to Ireland for his year as Cork's mayor and to organize a grandiose scheme to promote the settlement of the Canadian township of Whitby. 'With Irish logic,' writes a family historian1, 'the voters of his city saw nothing inconsistent in electing William Willcocks mayor while he was trying to organize an exodus from their district.'
William was first cousin of Hon. Peter Russell2who had been born in Cork in 1733 and was already in Canada and had encouraged him to emigrate. He had grown up with Peter in Ireland and it is even recorded that when they were children William had inadvertently given his cousin head lice. Russell was Receiver-General of the Province and a member of the executive council of Colonel John Graves Simcoe, Lt.-Governor of the Province of Upper Canada.
William Willcocks (1736-1813), the'old esquire' as he became known, moved to Canada as soon as he had served his mayoral year along with son Charles and two daughters, joined later by his third daughter and his wife Phoebe. Unable to produce sufficient settlers for Whitby, he first tried to establish himself as a merchant in York (now Toronto). He was subsequently appointed magistrate in 1796 and the following year York's first postmaster.
He was of great assistance to Joseph Willcocks. In a letter3 from William written to my great, great, great, great grandfather, Robert Willcocks, in 1800 from York he writes: 'My Cousin Joseph has done us the pleasure to make One of our family, and to partake of share of our homely fare in the wilderness, his Cousins and I endeavour to make him comfortable, and as he dislikes idleness, I hope to get him a small appointment in the office of my Cousin Peter Russell.'
In 1800 William resigned as postmaster when the authorities questioned his accounts, providing 'probably the first recorded case of an expense account being questioned in the history of Toronto'.4
William was an incorrigible land speculator and acquired a number of large properties throughout the province. Lake Willcocks which adjoined his 800 acre farm in the township of Whitchurch was named after him. He was the first owner of the 200 acre lot later known as the Spadina property in 1798. In 1800 he wrote back5 to Robert Willcocks in Dublin, 'I am rich in Land but poor in purse, however on return of Peace, which I pray God may be soon, I hope Land will procure money. A month ago I purchased from Government, Fifteen Thousand Acres of very excellent land, well situated, between Lake Arie, and a Navigable River of more than 200 Miles, and about three days journey West of this Town, they will be valuable to my family, though the purchase money which I am obliged to pay, keeps me poor for the present.'
In the summer of 1799 a family of new Irish immigrants related and well known to Willcocks and Russell had arrived in Upper Canada – Robert Baldwin with two of his sons and four daughters. While in York they stayed with William Willcocks. Robert's oldest son, a medical doctor, William Warren Baldwin (1775-1844), was 25. He was to say later, 'The horrors of domestic war conspired to drive us from our native country'. The motivation of acquiring cheap land probably also played a part.'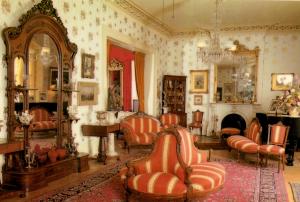 In 1803 William Willcocks' daughter Phoebe married Dr. Baldwin. When Baldwin died his surviving sons, the Hon. Robert Baldwin and William Augustus Baldwin, inherited thousands of acres of land throughout Upper Canada which had been acquired earlier by Willcocks and Russell. Spadina, a present tourist attraction in Toronto, was built by Dr. Baldwin.
Dr. Baldwin6 and his son, Robert , became active in the political reform movement and evolved the principle of Responsible Government with which their names are associated in Canadian history. Robert Baldwin was one of the first proponents of a bicultural nation and regarded by some as Canada's first pre-confederation prime minister.
'The dramatic change from autocracy to "responsible government" was achieved,' according to The Canadian Encyclopedia,7 'by the most remarkable political partnership in Canadian history – that of Robert Baldwin and Louis LaFontaine.' Indeed, the victory of the Reform Party on January 24, 1848 was 'one of the most significant in Canadian history'. When the new parliament assembled, Baldwin rose to insist that the new speaker be fluent in both English and French and nominated A. N. Morin, a motion seconded by LaFontaine and carried by loud cheers from all parts of the chamber.
Baldwin and LaFontaine were of one mind in seeing that the most important issue in the Canadas was the achievement of responsible government: 'The two men had the highest esteem for one another and enjoyed a deep friendship for the rest of their lives.'
In the early days of the Reform movement in Lower Canada (Quebec) there was distrust among French Canadians that LaFontaine was 'selling out' by co-operating with the English-speaking Reformers. Some gesture was needed to show that survival through co-operation could work. In August 1841 Baldwin supplied it. When LaFontaine was shut out of the Lower Canada Assembly, Baldwin presented him to his own electorate in York. LaFontaine accepted the generous offer and was elected. Later when Baldwin lost his seat, LaFontaine was able to return the favour with honour, earning Baldwin a seat in Rimouski, even though Baldwin spoke no French. When the government was defeated Lord Elgin invited LaFontaine to form a new ministry. LaFontaine accepted on condition that Baldwin be co-premier.
James H. Marsh writes, 'Robert Baldwin was anything but a typical Canadian politician then or now. Raised by his father, Dr William Baldwin, with political ideas in advance of their time, Baldwin's actions were always dictated by a high moral sense of duty. If he was not the actual author of responsible government, he spent the best years of his life contending for it.' 'This is not a mere party struggle,' he wrote, 'It is Canada against her oppressors, the people of Canada claiming their constitution against those who would withhold it.'
Copyright Michael Henderson