Remembering the Ruperts
I am not by nature a great fan of what I believe is called Installation art. But the dramatic and sensitive field of poppies in the Tower of London moat opened my mind to its potential power for good. Millions who came to see the poppies and the millions more who shared the experience through the media coverage worldwide will have been moved. To an extraordinary extent nearly a million handcrafted ceramic images have managed to personalize for us an almost incomprehensible historic event.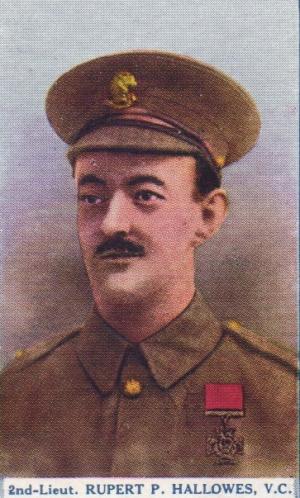 My wife's brother, Paul Hallowes, in Santa Barbara in California, was quicker off the mark than I was. He emailed me, 'We were able to buy one of the poppies before they sold out and wanted to do it in memory of all our family relatives who gave their lives,' It brought back to mind how as a young boy in the 1940s he had attended a Remembrance Day service and marched with others to the local Memorial Cross. 'It was the first time I had seen grownups crying in public'. He had bought the poppy particularly in memory of Lt Rupert Hallowes who was awarded a posthumous Victoria Cross.
Rupert's citation stated: 'For most conspicuous bravery and devotion to duty during the fighting at Hooge between 25 September and 1 October, 1915. Second Lieutenant Hallowes displayed throughout these days the greatest bravery and untiring energy, and set a magnificent example to his men during four heavy and prolonged bombardments. On more than one occasion he climbed up on the parapet, utterly regardless of danger, in order to put fresh heart into his men. He made daring reconnaissances of the German positions in our lines. When the supply of bombs was running short he went back under very heavy shell fire and brought up a fresh supply. Even after he was mortally wounded he continued to cheer those around him and to inspire them with fresh courage. —London Gazette', No. 29371, 16 November 1915.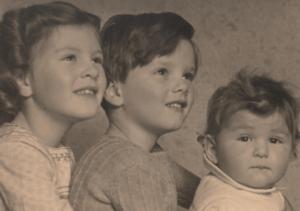 I was able to tell Paul and other Hallowes close to us that the British government had made it possible for all VC winners of the Great War to be remembered in their home towns and villages around the country with Victoria Cross commemorative memorial paving stones.
The name Rupert has a special place in our family. My wife Erica's brother was named Rupert after the First World War VC winner. He was run over and killed by an army lorry in 1941 at the age of seven, a terrible blow to the family. Erica was then nine and we have the photo of Rupert and Erica and Paul on the wall by our bed. Paul's son, is also Rupert, a barrister in London. War, and particularly modern wars are an equal opportunity tragedy, for young or old, on the home front and the battle field, the decorated and the innocent and the 'known only to God'.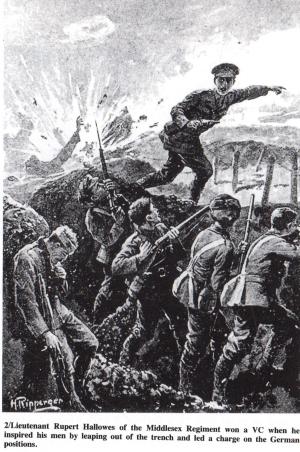 My side of the family was fortunate in that no close relatives were killed in the First World War. My father served in France and my Irish grandfather did so too and was wounded as was an uncle in the Second World War. I have thought of them as I go from house to house in our area for the Royal British Legion Poppy Appeal.
I was asked to say grace at a dinner for the Old Millhillians in the Southwest. I spoke of the number of poppies in the moat for old boys from my school who died. I quoted the closing words of the headmaster, Sir John McClure, at the first school chapel service after November 11, 1918: 'Some of us feel that just to be present here today; to realize how close they are to us; to give free play to the thoughts that stir within us as we strive to offer those prayers and thanksgiving which lie too deep for words, and which no one but God can know or understand; this is the greatest tribute and memorial of all. Words, however sincere, seem almost a sacrilege; only by silence can we truly express our sorrow and joy, our pride and humility, as we think of those whom we seek to honour with deepest mourning, yet with reverent thanksgiving. We are the poorer by the loss of so many brave and gallant men, but richer – incomparable richer – by the inspiration of their example and the precious memory of their life.'